What's a Portfolio of Work? And Why Could It Be the Future of Your Work?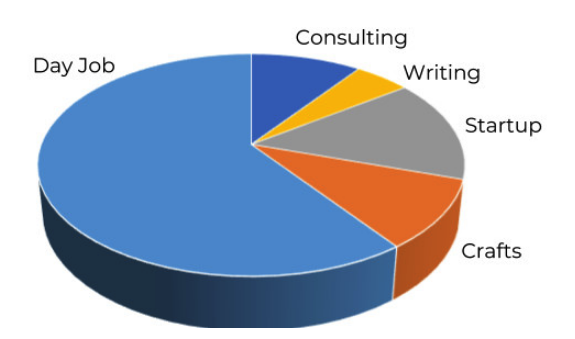 The takeaway: You need to consider new strategies to stay current in the brave new world of work. Come to our rapid-fire webinar to learn some of the most useful ideas, like this one.
In the past, you had a traditional job. Maybe you even have a job today.
But you may also be doing some part-time work, like driving in the evening. (Some people call this a "side hustle." That phrase can die a noisy death, as far as I'm concerned.) Or you could be working on a small project for a customer. Or you could be apprenticing yourself to learn a new trade. Or you could be selling crafts online.
Or you could be doing all the above, at the same time.
Put all of those things together, and you have what I call a Portfolio of Work. Think of it like an investment portfolio. Some work in your portfolio should be reliable and steady - income you can depend on. But some work you do can be a little risky, experimenting with a new opportunity or interest. And as traditional jobs become less common, or don't pay the rent, it's likely that a portfolio of work is somewhere in your future - if you don't already have one today.
The good news: A portfolio of work can mean you have tremendous variety, let you do work that fascinates you, and allow you to constantly develop new skills. But there can be challenges, like having a stable income, paying for benefits like healthcare, and managing a variety of different activities.
So here are five strategies for staying on top of your portfolio of work.
1. Try to avoid having too many small projects. Juggling lots of completely separate work activities can be challenging, and - unless you're extremely organized - things can fall through the cracks. It can also lead to a "feast or famine" style of income. It's a good idea to between 40% and 60% of your income from a single employer, customer or client, so you can keep to a minimum the number of people you need to make happy.
2. Make sure your portfolio includes a project or two that are new for you. Not only will this keep you fresh, it will give you the chance to experiment with new business opportunities. Take in-person or online classes. Work with someone you respect who has a skillset you don't - and whom you can learn from. Who knows: One of these new projects may turn into your core work in the future.
3. Always be on the lookout for new business. That's hard when your plate is full and you're overwhelmed with work. But if business suddenly slows down, you'll wish you had put the time into developing new opportunities.
4. Having a portfolio of work can be lonely, especially if you do a lot of your work online. If you're mostly working on your own, find other people you can involve. Even if it's a monthly lunch with other "portfolio workers," it's important to have people who can support you - and whom you can support. Even if you have a home office, work out of a co-working facility a day or two a week, just to keep yourself around others. And it can help build your network, which can bring in new business.
5. Do a regular check - once a quarter, once a year - to review how your portfolio is changing, and to make sure you're happy with how things are going. Some people like to have "alternating rhythms" in their lives - managing a portfolio of work for a few years, then getting a full-time job, then going back to a portfolio. But others may have a portfolio of work out of necessity, because they can't find full-time work.
If that's the case, you need to be proactive about making a change. Do the exercises on eParachute.com to get some ideas for new kinds of work you might like to do. Read (and do the exercises) in "What Color Is Your Parachute?" Ask for help from a coach or career counselor, so you can build the right approach to your work situation.
Having a portfolio of work can be challenging, but rewarding. And in a constantly-changing world of work, it's the way that more and more people will be managing their work.